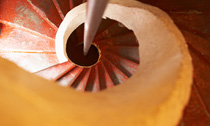 A Customer Portal is your special, password-protected "website within our website" is designed to assist you in doing business with us. Let us setup an online customized portal for all your office needs. Anything that is reordered can be added to a portal and put right into our production work flow. All you have to do is log in and place an order.
CUSTOMER PORTAL FEATURES
Document Library
The Document Library is a collection of your frequently ordered documents that we've uploaded. From here you'll be able to view past orders and quickly place reorders by simply entering a quantity. The forms will already be completed with your contact information. We can also track inventory that we keep in stock for you in our store.
VersaDoc® System
This feature is specially designed for companies that purchase business cards, letterhead and envelopes with the same basic layout but with variable name, graphics and address information. From your Document Library you'll be able to enter the information, proof the document instantly and place your order with us—all in a matter of minutes.
Request An Estimate
If you have a new job you'd like us to price, you would go to the Request An Estimate section of your Customer Portal. Your contact information would already be pre-populated for you. All you would have to do is enter the job specifications, submit the request and we'll respond in a timely manner.
Place A New Order
Much like the estimate feature, the contact information is already filled out on the order form—you would just need to complete the job specifications. We'll acknowledge receipt of the order, produce the job and deliver it to your door or prepare it for pickup.
Send A File
The Send A File feature is possibly one of our biggest time saving features. From here, you can send us a file, up to one gigabyte, and we'll be on the other end ready to handle the job. While e-mail is convenient, sometimes files can transfer incorrectly. Our system, using website technology, ensures your files get to us error free.
Order Approval
If your company requires approval on orders placed, we can take care of that, as well. Just let us know which users need approval or order access. When an order is placed, an e-mail will be sent to the approver which they can then approve or deny. Once they do, an e-mail will be sent to the employee who placed the order to let them know if the order was approved.
Order History
View all of your past orders in one convenient location with Order History. If you place the same order frequently, you can reorder simply by selecting the past order from the history, choosing a quantity and clicking the reorder button.
---