Personalized Variable data & Mailing Services
We can fulfill any direct mail need: Print, address and mail, we offer it all in one place. We specialize in variable data projects to help personalize your mail.
Mail List Processing:
CASS (Coding Accuracy Support System)
NCOA (National Change of Address)
Presorting (1st Class, Non-Profit, Standard, Marketing Mail)
Removing Duplicate Records (Upon Request)
Removing Deceased Records (Upon Request)
Postage Options:
Metered
Bulk Mail Permits
Postage Stamps
Campaigns:
USPS® Informed Delivery® - Sign up Here
USPS® Informed Visibility®
USPS® Every Door Direct Mail®
We Are Full Service:
Designing
Data Merging
Printing
Tabbing  
Inserting
Folding
Addressing
Delivery to Local Post Office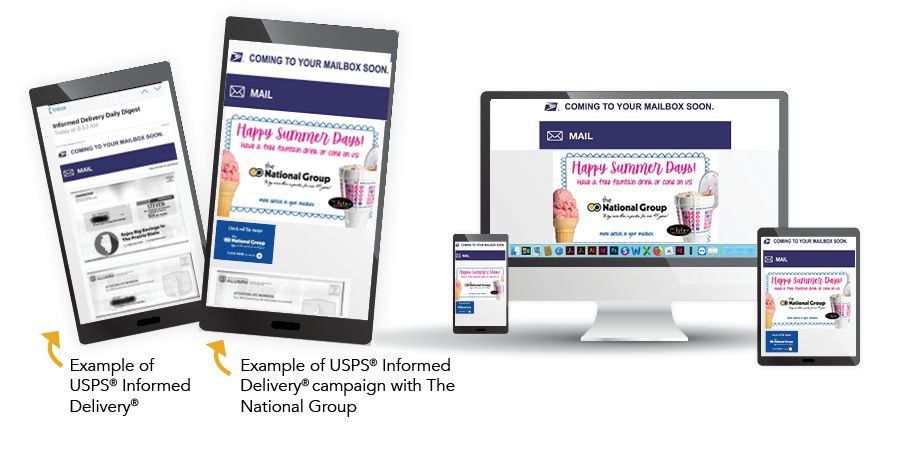 USPS® Every Door Direct Mail Services®
What Is Every Door Direct Mail® Service?
USPS® Every Door Direct Mail® (EDDM®) is an affordable targeted advertising technique that lets you map your marketing mail audience by age, income, or household size. You can use the EDDM® mapping tool to choose the ZIP Code™ and carrier route that will target your best possible customers—current and future. The EDDM® mapping tool is easy to use and discounts are available even for small businesses.
With Every Door Direct Mail® (EDDM®) service from the U.S. Postal Service®, you can get help reaching potential customers in nearby neighborhoods—and you don't even need to know names or street addresses. Simply identify the delivery routes you want to reach, prepare your mailpieces, drop off your mailpieces with us, and we'll deliver the printed pieces to the active addresses in your designated area.
---
---
Use Every Door Direct Mail® Service to:
Help reach a location without an address list.
Send out local mailings or national campaigns.
Help build more traffic.
Seek new customers.
Potentially increase revenue.
Help reduce mail preparation costs.
---
More USPS® Every Door Direct Mail® Information:
---